Resort Policies
Wilderness Point Resort
Resort Map & Policies
We appreciate your business and hope you have an enjoyable stay with us!
Resort Map Layout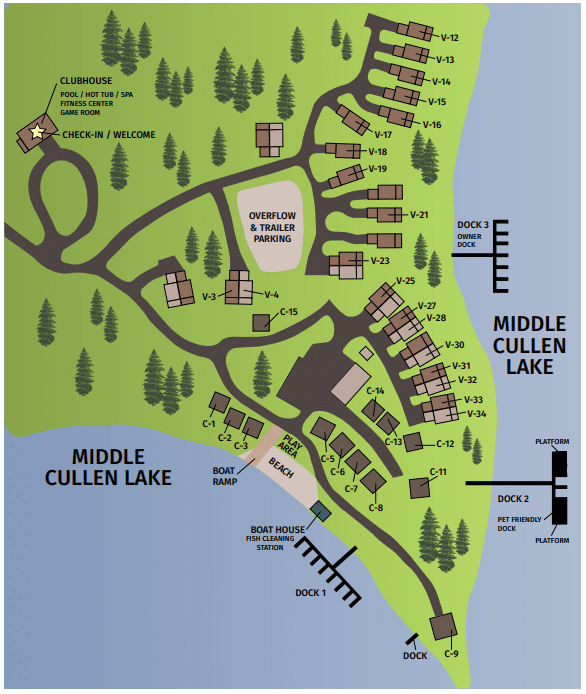 Resort Rules & Policies
General Information
Our front desk is staffed based on occupancy and
volume at the resort. If you need anything at all please
don't hesitate to call #218.568.5642
For after hours on site emergencies only – please call
#218.568.5434
Please do not take patio furniture or firewood from
the Lodge or other Villas and Cabins.
Recycling bins are outside by each unit.
No deposit required for stay dates through May 25th, 2023
24 hour cancellation policy valid for stay dates through May 25th, 2023
Firewood
If you need firewood during your stay, please contact PT Embers at 612-384-7948 or visit them online at https://www.ptemberscampfirewood.com/
UTV/ATV POLICY
Pleasure riding is not permitted on the resort grounds.
You can drive on the trails and road for transportation
to designated trails.
Please do not drive on the mulch paths and any grass areas.
Speed limit must be observed.
PARKING
As a standard rule each Villa can park 2 vehicles in
the driveway. If you have additional vehicles and/or
trailers you will need to park them in the overflow lot
and not on the resort roadways.
PLEASE do not park on the grass anywhere on the
property.
ITEMS FOR SALE (DURING OFFICE HOURS)
Firewood bundle $10
Clothing
Hats
Water Bottles
Wifi
WiFi Password for your Villa located on the back of
this paper.
Club House password: WILDERNESSGUEST
Please note that there is no WiFi in the Cabins.
Social Media
Please like us on Facebook and tag us in your family's
fun times at our Resort! We would love to share your
photos on our Facebook and Social Media pages if
you wouldn't mind.
Pool & Fitness Center
Hours are 8am-10pm
You will need the code on the back of this map to enter
the pool area. If you don't have this code when you go
to the pool, you will not be able to open the door.
Please do not take or remove the pool towels from the
Club House or the Pool.
No alcohol, glassware or food allowed in the pool
area.
Before You Leave
Please fill and start the dishwasher and set all trash
outside of your unit.
Units are inspected after departure; please let us
know of any damage done or extra cleaning that may
be needed.
Check out is at 9am – please drop your keys off at
the office and do not leave them in the unit
Rules & Policies
If you are renting a Villa, please know that each Villa
is privately owned by an individual owner. Wilderness
Point simply manages the property on the owner's
behalf. Please care for the Villa as you would for your
own home.
All furnishings in the Villa are also privately owned.
Therefore, no furniture, lawn furniture or any other
furnishings or supplies (ex-Firewood,) should be
shared or mixed with other Villas.
We encourage all guests to use the outdoor lawn areas
but please be mindful of how much lawn area your
party is using and be respectful of your neighbor's
space. The Villa's and the resort Cabins are closely
spaced and each renter/guest is entitled to use the
lawn areas of their rented unit for their own activities.
Dogs must be registered at check in time with a signed
pet waiver on file. All rules must be followed in the pet
waiver if you have a dog with you at the resort.
If the unit you're renting is NOT designated as a petfriendly
unit and we find that you have, or had, a pet
in the unit without written permission from the resort
office staff, we reserve the right to ask you to checkout
immediately, with no refund of unused days, and
you will be charged for a deep cleaning of the unit
(currently $450.00) upon your departure.
The speed limit of 10 mph on all resort roads must be
observed by all resort renters and guests.
Remember that voices carry further outdoors than you
may realize. As a family resort with children always present,
please be mindful of your language and conversations.
Quiet time hours are 10pm – 8am. Wilderness Point is
a family resort. If quiet time hours are not respected,
we reserve the right to ask your party to vacate the
property at any time with no refund for unused days.